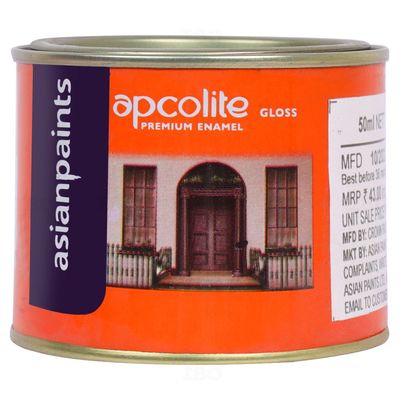 Brand: Asian Paints
Asian Paints Apcolite Premium - Gloss 50 ml Black Enamel-Color
Pack Of 1N
Currently out of stock in your area - 560001
Specification
| | |
| --- | --- |
| Brand | Asian Paints |
| ISIN | ECGKFRTDU1 |
| Offer ID | 1016935207 |
| Brand Collection Name | Apcolite Premium - Gloss |
| Brand Model Number | 0001050 |
| Size | 50 ml |
| Brand Colour | Black |
| Odour | Regular |
| VOC | (>50 g/L) |
| Usage Information | Drying Time - Surface Dry: 2-3 Hrs. Do not apply when ambient temperature is less than 10?C or if the temperature might drop to this level within 4 hrs of application. Stability of Diluted paint- 24Hrs |
| Pack Of | 1 |
| Warranty | Not Applicable |
| Country of Origin | India |
| Customer Care Address | Toll Free: 1800-209-5678 |
| Manufactured By | Asian Paints Limited, Asian Paints House, 6A, Shantinagar, Santacruz (E), Mumbai - 400 055 |
| Packed By | Asian Paints Limited, Asian Paints House, 6A, Shantinagar, Santacruz (E), Mumbai - 400 055 |
Product Description
Asian Paints Apcolite Premium Gloss Enamel imparts a shiny new look to surfaces painted with this finish.
Key Features:
Forms a tough film
Highly resistant to household stains
About Brand
Asian Paints manufactures wide range of paints for Decorative and Industrial use. In Decorative paints, Asian Paints is present in all the four segments i.e. Interior Wall Finishes, Exterior Wall Finishes, Enamels and Wood Finishes. It also has Water proofing, wall coverings and adhesives in its product portfolio.