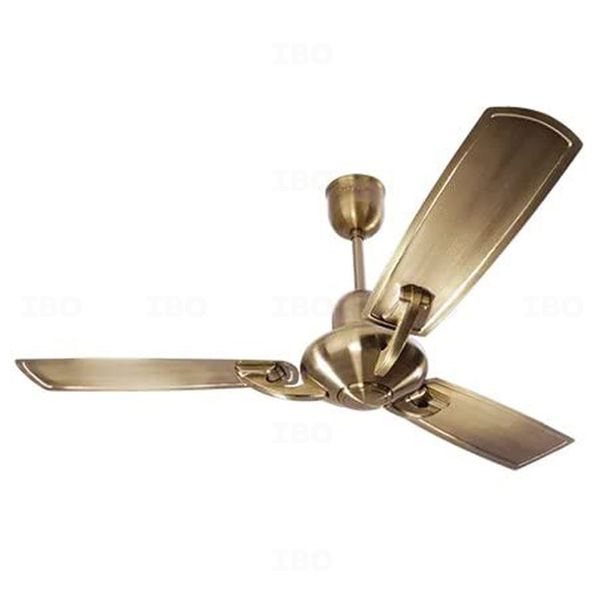 Brand: Crompton
Crompton Triton 1200 mm Antique Copper Ceiling Fan
Pack Of 1N
Currently out of stock in your area - 560001
Specification
| | |
| --- | --- |
| Brand | Crompton |
| ISIN | EP6XKWLHYF |
| Offer ID | 1014963505 |
| Brand Collection Name | Triton |
| Brand Model Number | TRIT48ACR |
| Size | 446 x 402 x 214 mm |
| Brand Colour | Antique Copper |
| Sweep Size | 1200 mm |
| Blade Material | Metal |
| Blade Finish | Electroplated |
| Speed Settings | 4 |
| RPM | 350 RPM |
| Number Of Blades | 3 |
| Air Delivery | 210 cmm |
| Power Consumption | 70 W |
| Noise Level | 65 db |
| Remote Controlled | No |
| Package Contents | 1N Fan Motor, 1 Blade Set Packaging Separately, 1 Canopy Set, 1N Twisted Wire, 1N Down Rod, 1N Shackle Assembly, 1N Instruction Manual |
| Pack Of | 1 |
| Warranty | 2 years |
| Country of Origin | India |
| Customer Care Address | Toll Free: 1800 419 0505 , Email ID: [email protected] |
| Manufactured By | Crompton Greaves Consumer Electricals Limited. Equinox Business Park, 1st Floor, Tower 3, LBS Marg, Kurla (W), Mumbai, Maharashtra - 400070 |
| Packed By | Crompton Greaves Consumer Electricals Limited. Equinox Business Park, 1st Floor, Tower 3, LBS Marg, Kurla (W), Mumbai, Maharashtra - 400070 |
Product Description
Crompton Triton 1200 mm Antique Copper Ceiling Fan is one of the best choices for bedroom, living room or office. Crafted in a simple and classic design, this fan has three blades that give you cool air and improve the airflow of your room. The fan comes equipped with five different speed settings, so high, medium or low, select a speed to regulate the fan speed.
Key Features:
Easy-to-use
High Speed and efficient
About Brand
Crompton are one of the leading consumer companies in India with a 75+ years old brand legacy. Crompton is an independent company under professional management and have 2 business segments Lighting and Electrical Consumer Durables. Crompton has received the Brand of the Decade Award by BARC and ERTC media for 2021. Crompton have been chosen amongst the top brands after evaluating a list of 500 organizations.