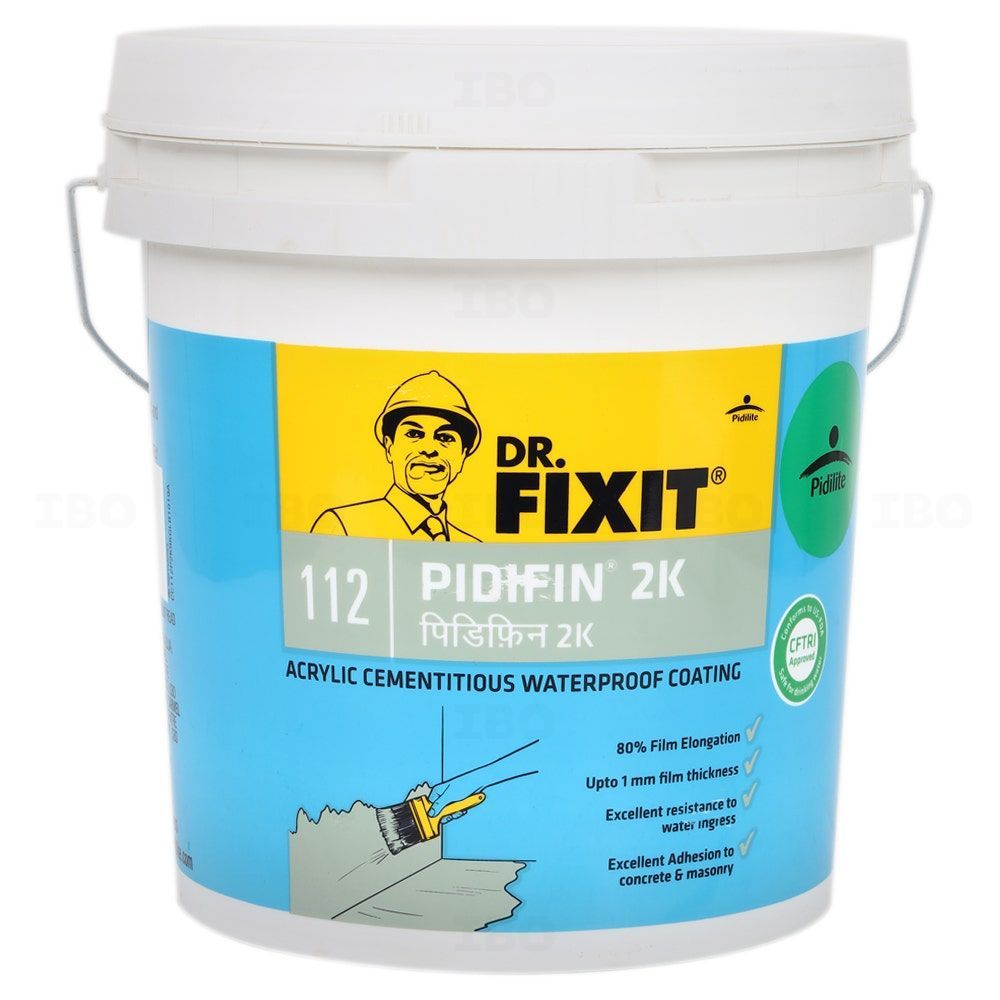 Brand: Dr. Fixit
Dr. Fixit Pidifin 2K Off-White 9 kg Floor Waterproofing
Pack Of 1N
Delivery by 8 PM, Tomorrow
Specification
| | |
| --- | --- |
| Brand | Dr. Fixit |
| ISIN | E5N0AR2S7C |
| Offer ID | 1000621787 |
| Brand Collection Name | Pidifin 2K |
| Size | 9 kg |
| Brand Colour | Off-White |
| Shelf Life | 12 months |
| Pack Of | 1 |
| Country of Origin | India |
| Customer Care Address | Toll Free: 18002095504 |
| Manufactured By | Carmel Industries, H.No-6-47, Sy No: 458 & 459, Tharamathipeta Village, Near Gowrelly X Road, Hayath Nagar (Mandal), Ranga Reddy Dist., Telangana - 501505 |
| Packed By | Carmel Industries, H.No-6-47, Sy No: 458 & 459, Tharamathipeta Village, Near Gowrelly X Road, Hayath Nagar (Mandal), Ranga Reddy Dist., Telangana - 501505 |
Product Description
Dr. Fixit Pidifin 2K is 2 parts polymer-modified flexible cementitious waterproofing membrane coating specially formulated for Concrete and Masonry Surface which is supplied in ready-mix kits (2 parts). When the dry part is mixed with acrylic-modified emulsion and applied according to direction, the cured.
Key Features:
Quick drying
Easily applied by brush or trowel
Flexible
Excellent adhesion to concrete and masonry substrates
Non toxic substances
Environmentally friendly - free Volatile Organic Compound (VOC)
Can be used for waterproofing of roof or terrace, Bathroom and other wet areas, concrete water tanks.
About Brand
Dr. Fixit is a market leader in modern waterproofing to create leak-free, damp-free India and is one of the top-selling brands of Pidilite group. Dr. Fixit offers comprehensive system solutions for Waterproofing a new home or Repairing an existing one. The product range includes wide variety of new construction and repair waterproofing solutions for all critical surface areas like Roof, External Walls, Structure, Foundation, Internal Walls, Bathrooms and Water Bodies. Dr. Fixit products are created at modern R&D centers in India, Middle East and Singapore. Dr. Fixit offers a wide range of innovative construction chemicals in waterproofing, building repairs, tile fixing, sealants, coatings and paints, grouts and anchors and industrial floorings.