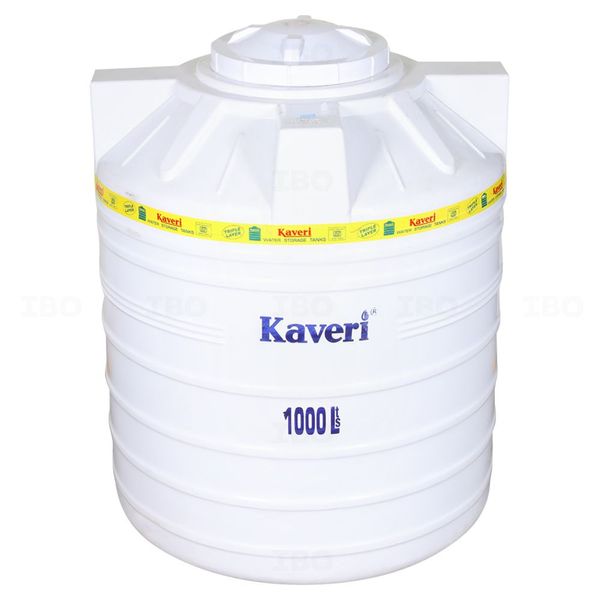 Brand: Kaveri
Kaveri 3 Layer White 1000 L Overhead Tank
Pack Of 1N
Currently out of stock in your area - 560001
Specification
| | |
| --- | --- |
| Brand | Kaveri |
| ISIN | ENUOGSD02B |
| Offer ID | 1006903583 |
| Brand Colour | White |
| Material | LLDPE |
| Layers | 3 Layer |
| Certification | IS12701 |
| Pack Of | 1 |
| Warranty | 14 years |
| Country of Origin | India |
| Customer Care Address | Phone: 9448283052 |
| Manufactured By | Kaveri Plasto Containers Pvt. Ltd. Plot No 19G, Bidadi Industrial Area, Sector-1, 2nd Phase Bidadi, Ramnagara, Karnataka - 56109 |
| Packed By | Kaveri Plasto Containers Pvt. Ltd. Plot No 19G, Bidadi Industrial Area, Sector-1, 2nd Phase Bidadi, Ramnagara, Karnataka - 56109 |
Product Description
Kaveri water storage tanks are made of food grade polyethylene which makes it the ideal water storage tanks. The outer layer is stabilized to mitigate harmful effects of sun rays and the inner layer is safe to use for potable drinking water. These water storage tanks are round in shape and light weight but are still strong to sustain natural weather conditions. These tanks durability is reliable for peace of mind as they are manufactured and built to withstand Indian weather conditions.
Key Features:
Food grade material
Longer life
Weather proof
Easy installation
Uniform wall thickness
Odourless
Strong threaded lid
About Brand
Kaveri Plasto Containers Pvt. Ltd. Manufacturer, Supplier & Exporter of Brand KAVERI Plastic Water Storage Tanks and other Rotational/Blow Molded products. The company was established in the year 1990 with an aim to manufacture and sell quality plastic water storage tanks in various capacities ranging from 200 litrs to 20,000 litrs. An ISO 9001:2015 certified & ISI mark license ( In range of 200 to 10,000 Ltrs ( Except 7,500 Ltrs )). Brand KAVERI Water Storage Tanks is registered at various prestigious departments Like NSIC, MES, Karnataka State Police Housing Corporation Ltd. CPWD, BSF etc. They have a wide range of products ranging from commercial tanks (Double Layer, Triple Layer), House Hold drums, Loft tanks, Sump tanks, Chemical containers, Industrial containers, Chemical Drums, Heavy Duty Plastic Pallets, Processing Trolleys, Dust Bins and many more . Apart from manufacturing water storage tanks the company also takes up custom built Rotomoulded products. The company has already executed job orders like automobile parts, Underground parts, Chemical Lab Parts and is in a position to develop any new products related to Rotomoulding.