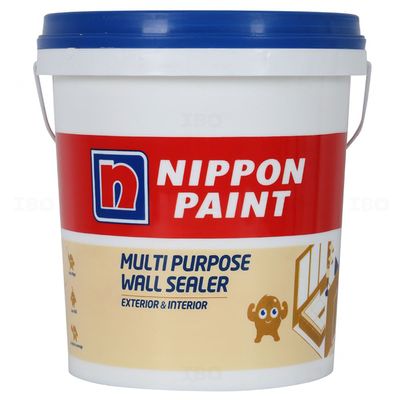 Brand: Nippon
Nippon Multipurpose 10 L Wall Primer
Pack Of 1N
Currently out of stock in your area - 560001
Specification
| | |
| --- | --- |
| Brand | Nippon |
| ISIN | EIVS5LZZYX |
| Offer ID | 1014757918 |
| Brand Collection Name | Multipurpose |
| Brand Model Number | 52110011000 |
| Size | 10 L |
| Brand Colour | White |
| Material | Water Based |
| Odour | Regular |
| Usage Information | Brush: Dilute with water 50% for interior use and 100% for exterior use, Roller: Dilute with water 50% for interior use and 100% for exterior use, Conventional Spray: Dilute with 40% - 50% water |
| Pack Of | 1 |
| Country of Origin | India |
| Customer Care Address | Email: [email protected], Toll Free: 1800 425 3636 |
| Manufactured By | Nippon Paint (India) Private Limited. Plot No. K-8(I), Phase-II, SIPCOT Industrial Park, Mambakkam Village, Sriperumbudur, Sunguvarchatiram, Kancheepuram, Tamil Nadu - 602106 |
| Packed By | Nippon Paint (India) Private Limited. Plot No. K-8(I), Phase-II, SIPCOT Industrial Park, Mambakkam Village, Sriperumbudur, Sunguvarchatiram, Kancheepuram, Tamil Nadu - 602106 |
Product Description
Nippon Paint Multi-purpose water based wall sealer is specially formulated to provide excellent adhesion and wall sealing properties to concrete substrate. This product is suitable for both interior and exterior, masonry surfaces. It bonds well with cement and plastered surfaces, thus enhancing the life of top coat.
Key Features:
Anti-algal and anti-fungal properties
High emulsion content
High solid content
About Brand
Nippon Paint is based in Japan and has over 140 years of experience in the paint industry. Nippon is among the leading paint manufacturers of the world. Nippon Paint produces high-quality paints and coats for automotive, industrial and decorative sectors. Apart from a range of interior, exterior and enamel finishes, Nippon has many specialty products that showcase its technological prowess. The fundamental commitment of Nippon is to become a trusted, eco-friendly company that helps protect the environment and save resources and energy. Nippon provides a wide range of products category like Interior Wall Paints, Exterior Wall Paints, Wood & Metal Paints, Construction Solutions, Primer, Undercoats etc. from economical to premium range. The top products of Nippon includes -Nippon Satin Glo+, Nippon Matex EZ Wash, Nippon Sumo Extra etc.